Stained Glass Windows - Method of Working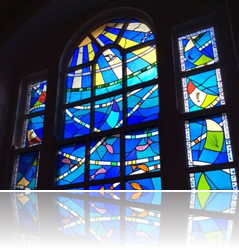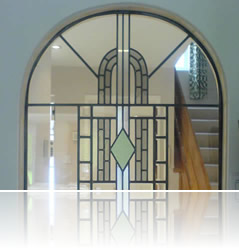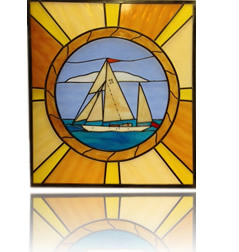 After discussing ideas I then offer several designs in sketch form including suggestions for colours and textures of the glass, as well as the possibility of added painting, staining, enamelling or fusing. Each sketch is accompanied by price estimates.
Once a design is chosen I draw a full-scale 'cartoon' which is a life-size drawing of the panel(s). This becomes the actual plan that I use when cutting each piece of glass and when forming the lead shapes that hold each piece of glass in place. When choosing glass, the depth of the colours and the textures are all carefully selected after considering the aspect of the panel and the effect of the direction of light flowing through it.
My panels are designed with strict attention to detail and structure according to traditional techniques, taking care to avoid the possibility of future sagging or cracking due to poor design. Every piece of glass is encased within a length of lead 'came' and each joint is lead soldered. Lead-light cement is used to make the panel rigid and weatherproof. Where necessary copper ties are added to give extra strength using saddle bars. Finally, the lead is buffed to make it gleam and the glass is polished to a glittering shine.
If you would like to discuss stained glass work further, please do not hesitate to contact me.