Stained Glass Window Repair and Restoration
Accidents happen and, sadly, stained glass and leaded lights are broken from time to time. Either parts of the glass pattern are cracked or smashed or the lead may become brittle and sagging occurs due to age and decay.
I undertake repairs and restoration work, paying particular attention to sourcing glass that is as close a match as possible to the existing glass. If the broken piece is painted, this has to be carefully removed and a copy drawing is made from which I can make a faithful replica of the original to paint onto the new piece of glass for subsequent firing in my glass kiln.
Unless the broken section lies at the outer edges of the panel, it is generally necessary to dismantle the entire panel and then to reconstruct it inserting the new pieces of glass. The cost of the work will reflect this and it is quite possible that a full restoration will cost a similar amount to the cost of making a new panel.
Example Restoration Projects :
Example 1
This door panel measures 60cm x 90cm and was in a sorry state when I received it. The lead was very brittle and there had been a poor attempt at restoration work.
Having completely removed all the lead, I was left with most of the glass intact. However, a couple of the "clear" glass panes were cracked and it proved impossible to find exactly the same as replacement. With the clients' approval, I was able to adapt the pattern and, using coloured "old" glass (which was available), the panel is now reinstalled by my clients who are delighted with it.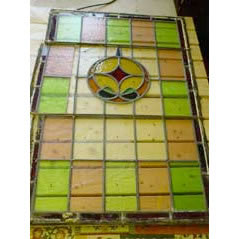 Before restoration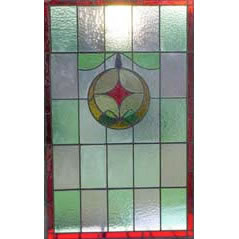 Fully restored stained glass window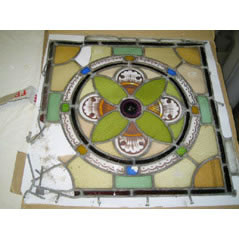 Before restoration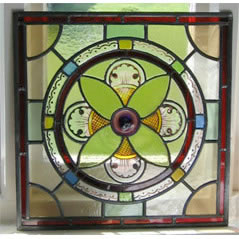 Fully restored and repaired
If you would like to discuss a repair or restoration project further, please do not hesitate to contact me.